Unit 3 Part 2
206 Total bones (Axial – 80, Appendicular 126)
A. Consists of bones from:
AXIAL SKELETON APPENDICULAR SKELETON
Skull (Cranium, Ear bones, and Facial Bones)

Spine (Vertebrae)

Thorax (Ribs and Sternum)

Hyoid bone (Tongue attachment)
Frontal

(1) – Forehead, Upper eye sockets

Parietal

(2) - Topsides of cranium

Temporal

(2) – Lower sides of cranium, middle and inner ear, mastoid process, external auditory canal, and styloid process.

Occipital

(1) – Back of skull, Foramen magnum

Sphenoid

(1) – Central floor of cranium

Ethmoid

(1) – Floor of cranium, side walls and roof of nose.
Suture

– Synarthrotic (immovable) joint

Lambdoidal

– Between parietal and occipital bones.

Squamosal

– Between parietal and temporal and part of sphenoid bone.

Coronal

– Between parietal and frontal bones.
Malleus

– Hammer

Incus

– Anvil

Stapes

- Stirrup
Nasal

(2) – Bridge of nose

Maxilla

(2) – Upper jaw bones, roof of mouth, floor and side of nose, and floor and roof of orbits (eyes).

Zygomatic

(2) – Cheek bones and orbits

Mandible

(1) – Lower jawbone (movable) and condyloid process.

Lacrimal

(2) – Medial wall of eye socket, side wall of nasal cavity.

Palatine (2) – Back part of mouth roof, floor and side walls of nose. (can't see on above diagram)

Inferior concha

(2) – Curved ledge along inside wall of nose.

Vomer

(1) – Lower back portion of nose
F. Bone of the Spine
Cervical vertebrae

(7) – Superior bones of vertebrae.

Atlas

(1st/C1)

Axis

(2nd/C2)

Thoracic vertebrae

(12) - Attachment site of ribs.

Lumbar vertebrae

(5) – Small of back

Sacrum

(1) – Child – 5 separate bones - Adult – 1 fused bone

Coccyx

(1) – Child – 3-5 separate bones - Adult – 1 fused bone
True ribs

(14) – Upper 7 pair, attached to sternum by costal cartilage.

False ribs

(10) – Lower 5 pair. Last 2 pair are called floating ribs (not attached to sternum)

Sternum

(1) – Breast bone

Manubrium

– Top portion

Gladiolus/Body

– Middle portion

Xiphoid process

– Cartilage at inferior end.
Only bone of the skeleton not articulated to another bone

Supported by the muscles of the neck

Supports the root of the tongue
II. Appendicular Skeleton
Upper extremity

126 bones
AXIAL SKELETON APPENDICULAR SKELETON
B. Upper Limb (Arm and hand)
Clavicle

(collar bone)

Sternoclavicular joint – Attachment point between sternum and clavicle.

Scapula

(shoulder blade)
Humerus

– Upper arm bone, 2nd longest bone

Radius

(thumb side) and Ulna (pinky side) – Forearm bones

Radius rotates over the top of the ulna bone when hand is supinated

Carpal

– 8 wrist bones

Metacarpals

– 5 palm bones

Phalanges

– 14 finger bones

27 bones in hand allow for great movement.
C. Lower extremity
Pelvic (hip) girdle

Connects legs to trunk

Consist of 2 Os Coxa (Separate in infants – Ilium, Ischium, and Pubis) Fused in adults and come together at front forming joint called symphysis pubis.

Femur

(thigh) – Longest and strongest bone in body.

Patella

– Kneecap

Tibia

– Lower weight bearing leg bone.

Fibula

– Lower non – weight bearing bone.

Tarsals

(7) – Ankle

Largest tarsal bone is the calcaneous (heel bone).

Metatarsals

(5) – Top of foot

Phalanges

(14) – Toes
D. Foot Arches
Medial Longitudinal

– Inner foot (Duck-walk)
III. Joints (Articulations)
All bones are connected to other bones, except hyoid bone (tongue attachment).
A. Joints are classified according to degree of movement.
Synarthrotic

– No movement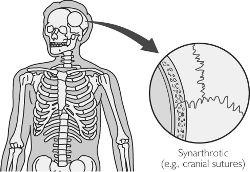 Connective tissue connects bone.

Cranial bone

Amphiarthrotic

– Slight movement
Cartilage connects bone.

Symphysis pubis, Vertebrae
Diarthrotic

– Free movement -

Contain joint capsule (fibrous connective tissue and synovial membrane), joint cavity, and layer of cartilage.

Ligaments present to add strength.

Types of Diarthrotic Joints

Ball and Socket

– Ball shaped bone (Head) fits into a concave socket (Fossa).

1. Shoulder and Hip

2. Greatest amount of movement of any joint

Hinge

– Two directional movement.

Pivot

– Small projection pivots on another.

1. Atlas on axis (Vertebrae)

2. Radius over ulna

Saddle

– Allow for great degree of movement.
Gliding

– Least moveable

1. Joints between vertebrae
IV. Fractures of Bone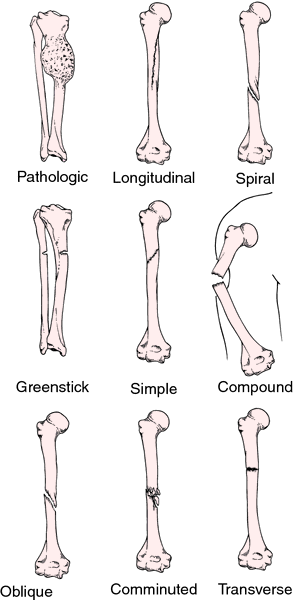 Greenstick

– Incomplete break which occurs on convex surface of bend. (Children)

Fissured/Longitudinal

– Incomplete longitudinal break. (Impact to end of bone)

Comminuted

– Complete break resulting in many fragments. (Tremendous force)

Transverse

– Complete break at a right angle. (Impact)

Oblique

– Occurs at other than right angle. (Impact)

Spiral

– Caused by twisting a bone excessively.

Compression

-- Fracture that occurs from a "pinching" that collapses the bone (vertebrae)

Depression

-- Bone that has been pressed inward (ie. = fractured skull bones)
If bone penetrates skin =

Compound fracture

If bone is covered by skin =

Simple fracture

Break due to injury =

Traumatic fracture

Break due to disease =

Spontaneous or Pathologic fracture
B. Repair of a Fracture
When a bone is broken, blood vessels and periosteum are also broken.
C. Factors Affecting Repair of Fractures
Proximity and number of fractured bones.

Leg bones take twice as long to heal as any other bone.

As age increases, so does healing time.