Unit 4 Part 2 -- Muscles
"The Governator!"
Anatomy and Physiology of Muscles

Location and Action of muscles in the human body

Location, origin, insertion and function of major muscles in the cat
When you smile, you use around 17 muscles.
When you frown, you use around 40 muscles.
I. Skeletal Muscle Groups
Head

Frontalis – Raises eyebrows and skin of forehead.

Orbicularis oris – Puckers lips. "Kissing muscle"

Orbicularis oculi – Closes eye. "Winking muscle"

Zygomaticus – Elevates corners of mouth. "Smiling muscle"

Depressor anguli oris – Lowers corner of lips (muscle for frowning)

Levator Labii – raises lips

Depressor Labii – Lowers lip
Muscles of Mastication (Chewing)

Temporalis – Elevates mandible.

Masseter – Closes jaw.

Mentalis – Raises Chin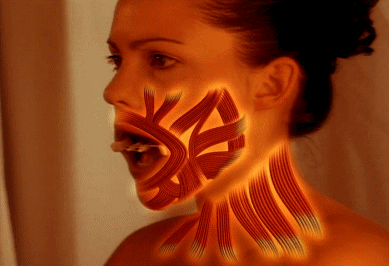 Neck

Sternocleidomastoid – Behind ears to neck.

Together they flex head on chest

Separately it tilts the head to the side.
Chest

Pectoralis major

Located on chest.
Flexor of upper arm.

Pectoralis minor

Small triangular muscle located deep (beneath) the Pectoralis Major
Downward rotation and stabilization of the scapula.
Trapezius – Back of head to neck.

Elevates shoulders and extends head

"Shrugging and Gargling muscle"
Located on lower back.

Extensor of upper arm.
Shoulder

Deltoid – Located on shoulder.
Upper Arm

Biceps brachii
Triceps brachii
Lower Arm

Wrist Flexors
Wrist Extensors
Trunk

External oblique – Outermost layer of abdominal wall.
Internal oblique – Middle layer.
Transversus abdominus – Innermost layer.

Together the three abdominal wall muscles are antagonists to the diaphragm and assist in defecation, urination, vomiting, and childbirth.

Rectus abdominus – Middle of abdomen and flexes the trunk.
Respiratory Muscles

Intercostals – Between the ribs (Internal for exhaling/expiration and external for inhaling/inspiration)

Diaphragm – Between thorax and abdomen
Iliopsoas – Flexor of thigh and trunk (if thigh is still)

Postural muscle of trunk (Keeps trunk from falling backwards).
Gluteus maximus – Buttocks
Adductor muscles / Groin muscles(magnus, brevis, and longus)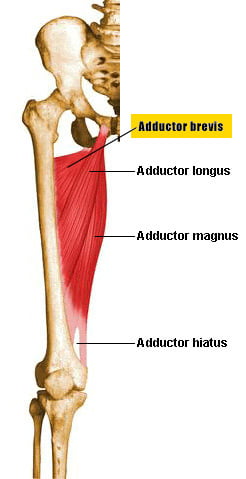 Magnus Brevis Longus All 3 Together
Hamstrings – Semimembranosus, Semitendinosus, and Biceps femoris.

Flexes lower leg (calf to thigh)
Quadriceps femoris – Rectus femoris and Vastus muscles (lateralis, medialis, and intermedialis)
Sartorius – Longest muscle in body.

Flexes calf on thigh and thigh on pelvis and rotates leg.
Tibialis anterior – Shin muscle

Dorsiflexes foot
Responsible for shinsplints
Gastrocnemius – Calf

Plantar flexes and inverts the foot
Peroneus (fibula) Group – longus, tertius,brevis

Plantar flexion and eversion of foot.